Corel® Painter™ for Artists
By Melissa Findley
If Leonardo DaVinci were alive today, you can bet money that he would be at the forefront of the digital art revolution. With its ability to adapt and imitate most traditional mediums without the mess and expense that comes from working with paints and pastels, digital art is quickly gaining a foothold among professional artists. Whether you're a beginner digital artist making the switch from traditional tools, or a veteran Wacom® warrior, there comes a time when you start looking at digital painting programs and wondering which one is right for you. Corel® Painter™ offers tools and options that are designed specifically for artists familiar with traditional media and techniques.
Brushes
Corel Painter's brushes make it an exceptionally powerful digital painting tool. In some programs, you're limited to only a handful of brush types, with a few customizable variations. However, in Corel Painter, you're given a massive collection of brushes. Most of the brushes mimic Natural-Media®, such as pastels, oils, ink, gouache, watercolor, acrylics, and more. You may be a little overwhelmed by the brushes at first, but if you take some time to play with them, you will find that it's a great way to get more comfortable with Corel Painter. In addition, you'll also get to know which brushes you prefer working with.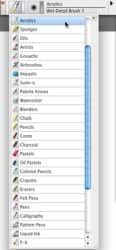 Custom Palettes
Another option that makes Corel Painter really shine is the ability to create custom palettes. For example, when you find a brush that you like, simply drag the brush icon out of the palette and Corel Painter generates a new, custom palette where you can store all of your favorite brushes. This allows you to quickly access brushes, papers, and patterns, too! While holding down the Shift key, you can drag the icons to a new location in the custom palette to organize them, or drag them out of the palette area to remove them. If you customize the settings of a brush, Corel Painter can save the custom settings, too. It's a great way to keep all of your favorite tools at your fingertips.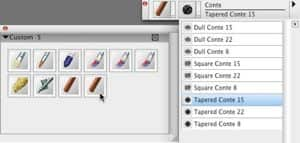 Brush Creator
Once you're comfortable with the brushes, take a peek inside the Brush Creator to learn what makes the brushes so special. You might be surprised when you do. Here's where the magic happens. With the Brush Creator, you can control everything from how a brush reacts to varying pressure, to how many bristles it has, to how fast the paint runs out, to which direction the wind is blowing. The amount of control you're given over every aspect of your brushes really sets Corel Painter apart from other painting programs.
Mixer Pad
If you're a traditional artist who works with paint, you're probably used to mixing your paint colors before applying them to the canvas. Corel Painter's Mixer pad mimics the traditional experience of mixing colors on an artist's palette. You can select colors from the default color palette, or from the color swatch palette, and then dab them onto the Mixer pad and use the palette knife to mix them together. You can also use the color picker to pick up a color from the Mixer pad and apply it directly to your painting, or export all of the colors on your color pad to a new swatch set, to make color selection easier. Save your Mixer pads and swatch sets to create favorites, or specific color palettes for different paintings.
Paper Texture
One of the drawbacks of digital art is that it often lacks the depth and texture of real world media. However, Corel Painter offers dozens of canvas surfaces, paper textures, and more to help you achieve more realistic results.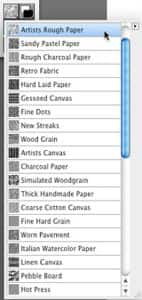 After choosing a surface, you can use a brush to pick up the grain and then apply it to your work to get instant effects. Not enough texture for you? Impasto brush effects simulate the thick buildup of unthinned oil paints on a canvas. Still not enough texture? Try using pattern pens to overlay photographic textures, or the Add Grain variant from the Photo brush category, to deepen paper textures.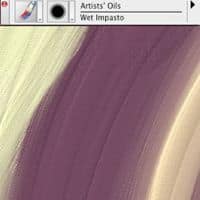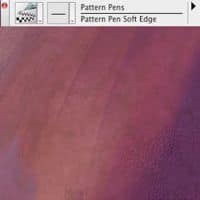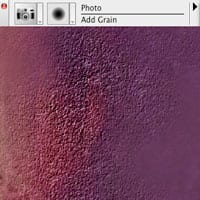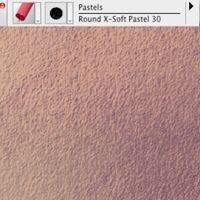 The best part of using a program like Corel Painter, of course, is that when you're done, there's no clean up. No brushes to wash, no new canvases to prime, and no charcoal to scrub off of your fingertips. In many ways, it's like taking an art supply store home with you. It allows you to experiment with numerous (and often expensive) tools and techniques, without the mess and expense of their real world counterparts. If you're a traditional artist looking to try out digital art for the first time, Corel Painter provides a natural transition. If you're a veteran digital artist and are tired of the limited brush options that photo editing programs provide, Corel Painter gives you the opportunity to expand your toolset immeasurably. What are you waiting for?