Free Digital Art Software

Digital art software trusted by professional artists
Make an effortless transition from traditional to digital art, and accomplish natural, professional results in less time with Painter 2018®. Expand your digital art capabilities using a phenomenal collection of the world's most realistic Natural-Media®. Experiment with unlimited art materials trusted by artists worldwide, including thick paints, flowing watercolors, and texture-filled media.
Painter 2018

NEW Thick Paint
NEW Cloning Capabilities
NEW Texture Synthesis
NEW 2.5D Texture Brushes
ENHANCED Drip and Liquid Technology

A full 30-day free trial of this drawing software.
No credit card required.
Digital Art & Painting Software
Drawing Features
What's Included
Reviewer's Guide
(PDF)
Pricing and Purchase
System Requirements
Other Digital Art Software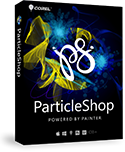 ParticleShop
Powered by Painter
Buy Now
Painter
Essentials 6
Download Now
What's Included

Main Applications

Corel Painter 2018 – Mac OS® and Windows® versions

Online Content*

Libraries of unique brushes, gradients, nozzles, patterns, paper textures and textures
Introduction Guide (PDF)
Videos and tutorials
HTML Help files (Windows)
Apple Help files (Mac)

*Internet connection required
System Requirements

Windows:

Windows 10 (64-Bit), Windows 8.1 (64-Bit), or Windows 7 (64-Bit) (with the latest updates)
Intel Core 2 or AMD Athlon 64 processor, 2 GHz or faster
4 logical cores or higher (recommended)
2 GB RAM (8 GB RAM or higher recommended)
1 GB hard disk space for application files*
Solid-state drive (recommended)
1280 x 800 screen resolution (1920 x 1080 recommended)
Mouse or tablet
DVD drive (required for box installation)
Microsoft Internet Explorer 11 or higher, with the latest updates
To activate your product, you must connect to the Internet and register it first
Mac:
macOS 10.12, OS X 10.11 and OS X 10.10, with the latest revision
Multicore Intel processor with 64-bit support
4 logical cores or higher (recommended)
2 GB RAM (8 GB RAM or higher recommended)
750 MB hard disk space for application files
Solid-state drive (recommended)
1280 x 800 screen resolution (1920 x 1080 recommended)
Mouse or tablet
DVD drive (required for box installation)
To activate your product, you must connect to the Internet and register it first
Looking for a previous version of Painter?
Painter 7 – Released in 2006
Painter 8 – Released in 2007
Painter 9 – Released in 2008
Painter 10 – Released in 2009
Painter 11 – Released in 2010
Painter 12 – Released in 2011
Painter X3 – Released in 2012
Painter X4 – Released in 2013
Painter 2015 - Released in 2014
Painter 2016 - Released in 2015
Painter 2017 – Released in 2016