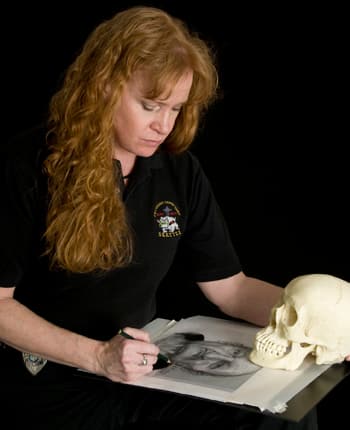 What inspired you to become an artist?
I loved to draw when I was small but I never considered going to college for art. I didn't think it was a career. I became a police officer. My sergeant approached me one day to tell me our department was hosting composite drawing training. She knew I liked to draw and asked if I wanted to attend. That's where I learned to draw faces from the verbal description of a victim – not the easiest skill. After that, I attended a more extensive training at the FBI Academy in Quantico to learn to do reconstructions from skeletal remains, postmortem drawings from fleshed remains (both done to attempt to get identifications on unidentified remains cases), and age progressions. The more I learned, the more I wanted to learn. Now all I want to draw is faces. I find the skull and the face fascinating. I retired from police work but now work freelance as a forensic artist, doing these cases for law enforcement nationwide.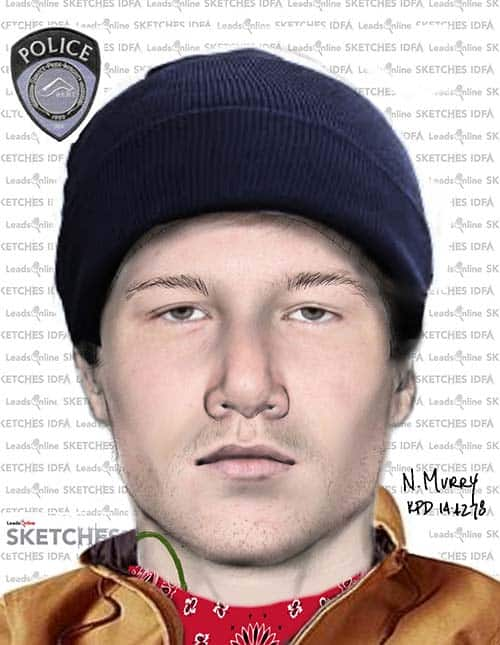 Can you tell us about some of the projects you're working on right now?
I just finished writing a book - Digital Forensic Art Techniques: A Professional's Guide to Corel Painter. I started working digitally in 2010 and have taught other forensic artists to transition from pencil to stylus, but I haven't found where anyone else is teaching this to forensic artists. I wrote the book to give working forensic artists some help in learning to use the tools. Drawing digitally is a great step forward from pencil for forensic artists, there are several benefits. For instance, I've been at the forefront in the US of doing composites remotely. I can meet with a victim or witness online using WebEx and share my Wacom Cintiq monitor with them in real time as I do a composite. The drawing can be done within hours of the crime and then emailed to the detective in time for the evening news. I've done this for departments that have never had access to a forensic artist before, so it's a great tool to be able to offer.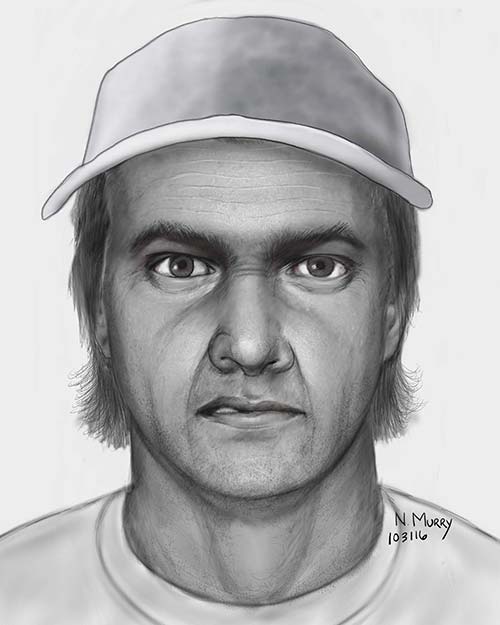 What has been your favorite project to be a part of? Why?
I like doing reconstructions of skeletal remains cases that have been unidentified for many years that then get identified when a family member sees my drawing and calls the detective. I had one case where the family identified the victim over 40 years after she disappeared, that was an amazing experience. It was one of the last cases I thought would ever get IDed because of the length of time the victim had been missing. I love when cases are identified quickly after my drawing is released to the media, I feel I've helped a family find their loved one. Many cases are still unidentified for many years. They all just need that one right person to see them and call the detective. Sadly, sometimes the right person never sees it.
What does a typical day look like for you?
It depends on what I'm working on. If it's a reconstruction, I'll go down to the Medical Examiner's Office to work with the skull. I examine it to find what makes that skull unique from all others, to see what I can include in my drawing. It could be an asymmetry to the face or some strong muscle attachment indications, an unusual dental arrangement, a crooked nose. I glue tissue depth markers on the skull in the proper locations and photograph it from the front (anterior) and profile. When I go home, I download the photos and open them in Painter to work with the files there.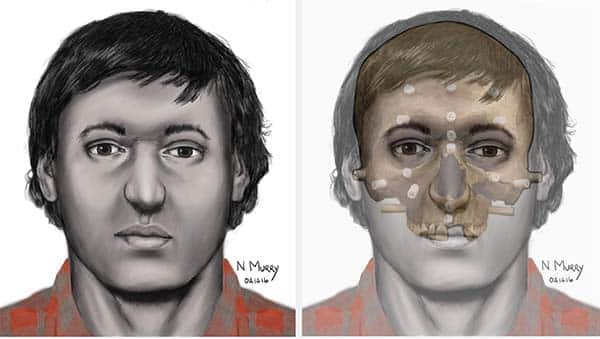 If I'm doing a composite, I'll open up Painter and WebEx on my pc. I also open my facial ID catalog, which is a catalog of booking photos that I use as a resource to assist the witness in showing me what they remember the suspect's facial features to resemble. I do an online interview with the witness and let them choose several photos with pieces that they like – these eyes, that nose, those lips, that head shape. Different hair, facial hair, maybe cheekbones or chin, sometimes skin conditions or scars. The term "composite" comes from the method of putting this drawing together – it's a composite of several pieces of face from many sources all brought together to create one single face. You've got to put them together so they flow properly and look natural, and then they also have to look like the suspect. It's an interesting exercise.
If I'm not doing either of those, I can be working on a different commissioned project or doing some painting or sketching. Through my website I get some unusual commissions that are somewhat related to forensic art. It keeps things interesting.
How does Painter help you in the development and creation of your artwork?
Painter has been a giant step forward from working in pencil. I normally draw lightly. My composites that I drew in pencil would lose all the shading when I scanned them on the police department scanner, they looked horrible. Now the drawing always looks exactly as I drew it since it's digital. I can email it immediately, it arrives instantly, it's perfect. I've developed a workflow that makes the process easy and logical, it just flows. When I worked in pencil drawing a reconstruction, I'd print a photo of the skull and draw over it on a translucent paper. The photo was life sized, but static. In Painter, I can zoom in and see detail on the bone if I need to. I can resize the profile to exactly match the size of the anterior photo and work with them side by side on the same canvas. I can use one layer to draw specific measurements in red and plot out certain feature shapes, and then turn that layer off later as the drawing progresses. I can try out different methods of adding tone and texture and add actual photos of clothing that matches that of the victim. I can bring in a tattoo that the victim had and clean it up, removing signs of decomposition, and release that with a postmortem sketch.
What's your favorite Painter tool/feature? Why?
I've used other drawing software, but none of them have a good blur tool. It sounds like a small thing but it's huge for me. The others all just smear – I hate it. Diffuse blur is the best!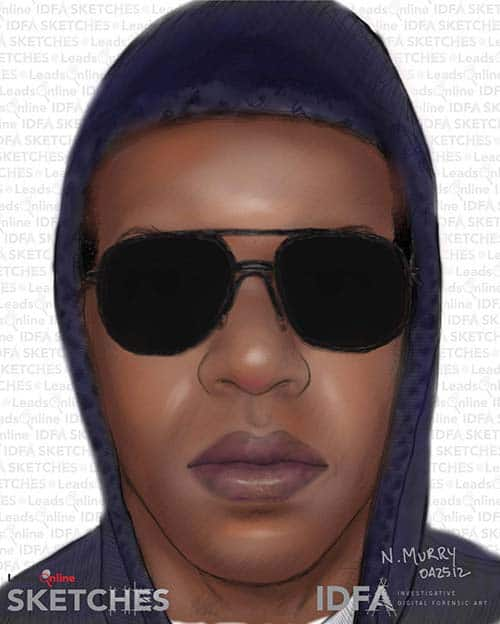 What are the challenges involved with being a full time artist?
I can't say I'm full time. I'm really part time, which is ok. It gives me time for personal projects.
What advice would you give to up-and-coming artists?
I've seen a lot of your other artists give advice to young artists, so I won't repeat their great advice. For artists interested in forensic art, it's a tough career to get into. Most forensic artists start out as I did, as police officers. If you're not up for a law enforcement career, it limits your options. There are very few full time forensic artists in the USA, only about 50. The rest are part time, mostly patrol officers who do composites when a case in their own department comes up that has a good witness to a felony crime. There are a few civilian forensic artists, but you still have to work closely with them and have the trust of law enforcement. If you want to look at it as a career, you could talk to someone in the International Association for Identification's Forensic Art Subcommittee. The IAI is the only organization that certifies forensic artists worldwide. I'm currently on the subcommittee and we're happy to talk with potential artists.
What hardware helps you get the job done? System and peripherals.
I'm currently working on a pc with Intel Core i7 4770 @ 3.4GHz with 24 GB of RAM. I use a Wacom 22HD Cintiq and Art Pen.
Learn more about Natalie at https://nataliemurry.com/