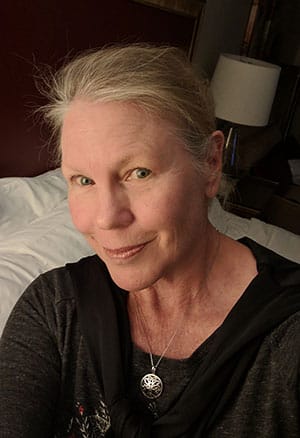 What inspired you to become an artist?
I would have to say that I was inspired by my mom who enjoyed art. She always found something clever in all that she did and I think that rubbed off on me. She attended art classes and painted with oils; her paintings were always on display throughout the house.
Can you tell us about some of the projects you're working on right now?
I have recently offered a new class in my school, Digital Art Academy, which concentrates on color and light while using the lovely Corel Mystic Mountain brushes and other Bob Ross brushes recently created for the class. The class encourages students to understand the importance of accurately establishing the light source before starting a painting and how proper lighting can make all the difference in painting.
My next course will focus on the Hudson River School Artists with an emphasis on Thomas Cole and Albert Bierstadt. Students will complete paintings of clouds and landscapes. You can clearly see the impact that these artists have on today's digital artists, particularly concept artists.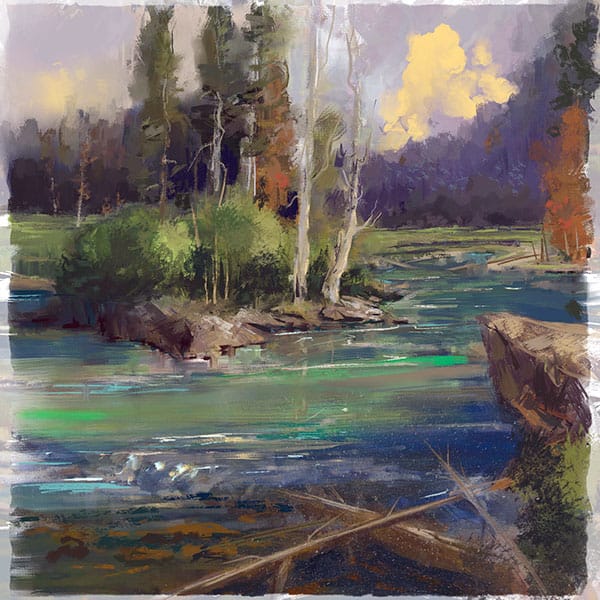 What has been your favorite project to be a part of? Why?
I enjoy having live gatherings with my students and painting in real time. It presents me with the opportunity to communicate with them on a more personal level. It is the next best thing to being there physically.
What does a typical day look like for you?
My day begins early by checking communications and critiquing my student's paintings. This can take a while; however, I enjoy it very much. It is especially gratifying to see students' progress in their skill levels with Painter each day.
I regularly try to find time to paint every day. That is a time when I can focus on Painter software. I spend two hours each day writing new courses on painting with Painter and taking care of my additional Painter obligations which are very important to me like Painter forums and my DAA Community group.
My day ends with a workout at our local gym, dinner and a glass of wine and catching up with the most important thing in my life, family!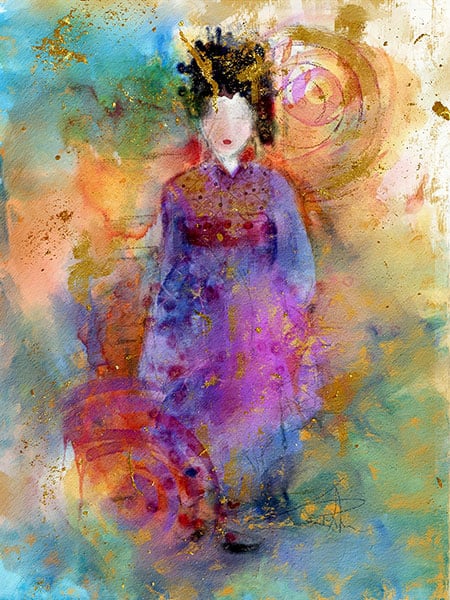 How does Painter help you in the development and creation of your artwork?
Painter is my primary digital tool. I have been using the program for just about 20 years now. Since those early days, Painter has continued to develop into a robust application and it just seems to get better and better with each new release. It has been a way to get things done digitally that would take days to complete with traditional methods. Every day I use Painter and I open a new canvas, it is like going to a magical place where you can let your imagination run wild. As adults, we need to use our imagination more and Painter creates the path for that.
What's your favorite Painter tool/feature? Why?
I would have to say that the brushes are my favorite tool. As a traditional artist, I am always working to replicate the look and feel of natural media such as pastel and watercolor in Painter. Over the years I have worked with literally thousands of brushes; yet today I have a limited number of brushes that work magic for me.
One of my favorite effects is the Match Palette tool which helps tremendously. It brings an image back into color gamut which is very important for me.
What are the challenges involved with being a full-time artist?
I need to work consistently on staying organized. But, there is no better challenge than a class full of enthusiastic students who want to learn to paint with Painter. I love my work and my students.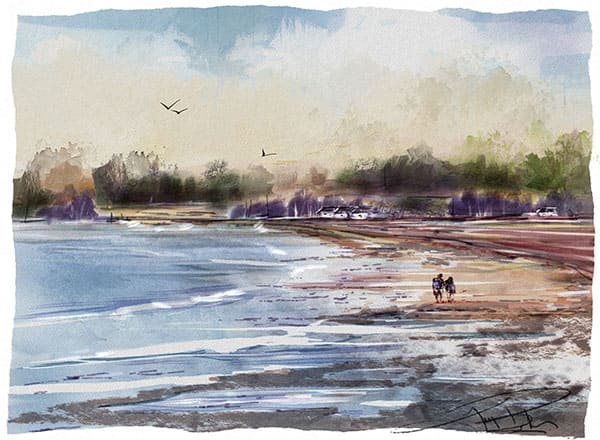 What advice would you give to up-and-coming artists?
In the digital world of painting, drawing skills have declined so I believe it is essential to have a firm foundation to progress quickly in this field. If you are learning to use Painter for the first time, study the fundamentals first. I honestly believe this because you will advance with the software much faster. Many years ago when I was introduced to Painter, I fumbled around with it, got frustrated and almost stopped using it. But when I found an obscure class on the fundamentals of using Painter, I was off and running and never looked back.
Paint as often as you can, there is no better teacher than practice. Take classes from artists you admire and want to emulate. They are so crucial in helping you find who you are as a digital artist. Don't be afraid to change course or try new things. Challenge yourself often; it allows you to grow. And most importantly don't be afraid to make mistakes, take risks or follow those "what if" moments. They often result in a deeper level of understanding and depth in your work.
What hardware helps you get the job done? System and peripherals.
I always look for a system that will optimize my digital painting experiences. I am pretty spoiled when it comes to getting new hardware. I like to update about every two years or sooner which keeps me current and ahead of the technology curve.
I use the Wacom Intuos Pro 5. Finding the right tablet is essential but, I don't think it makes you a better artist. I have seen amazing work done by using a Wacom Cintiq as well as beautiful paintings on less expensive tablets. Master the software and then the hardware.
I like to travel and always take my Surface Pro or iPad with me. They are excellent for digital plein air painting.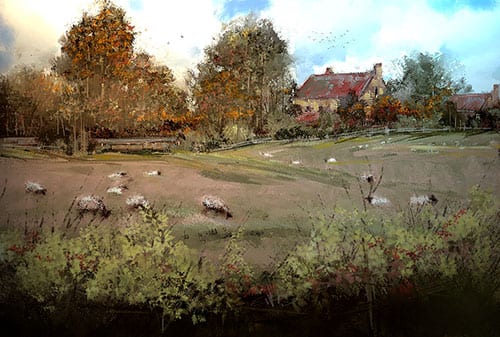 Do you use Painter and any other software together? If so what do you like about that process?
I tend to use Painter for just about everything, I have never found that I must have another software to get the job done.
Learn more about Karen Bonaker: digitalartacademy.com
DAA Community Group: digital-art-academy.mn.co