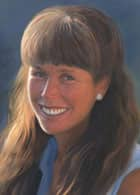 What inspired you to become an artist?
My mother was a talented fine artist, and also a commercial illustrator. She saw that I loved to draw at a young age, and encouraged me. As soon as I could hold a crayon, pencil and brush, I have sketched, drawn and painted. Beautiful scenes, color, light and shadow, art history and the arts of different cultures inspire me.
Can you tell us about some of the projects you're working on right now?
At the moment, I am working on two series. Each series includes digital paintings and traditional media work. The first is focused on seascapes and the second series are paintings of flowers. Additionally, I am working on freelance illustrations for a client using the pen and ink and watercolor media in Painter. Our 16 year old cat Marika "La Reina" is my constant companion when I'm painting.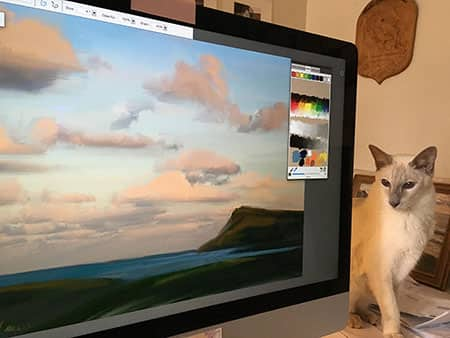 What has been your favorite project to be a part of? Why?
My favorite project was authoring The Painter Wow! Books, and Artist Tablet Books. With the Painter Wow! Books, I covered Painter in depth including introductions to the tools advanced features, and creative techniques. This detailed focus helped me push my own creativity and art further. Also very important, I enjoyed interviewing artist colleagues for Painter Wow!, and it gave me joy to showcase their beautiful work in the art galleries and in technique projects. With the Artist Tablet Books, I enjoyed teaching my own processes throughout the book. The Artist Tablet Book is like a personal one-on-one workshop with me.
What does a typical day look like for you?
My typical day begins before the sun is up. After making organic fresh ground coffee, my husband and I take an early walk (or enjoy an early surf session) at the natural park near our home. It is lovely the begin the day outside, with the sun rising, and with the ocean. Then it's back home for breakfast, and we're off to work. I work on a variety of projects in my art studio and office, and also go out to meet with clients. Sometimes my commissioned projects require research, which may take me to the Natural History Museum, Fine Art Museum, or on location to create sketches, color studies and notes. Evenings may find me drawing concepts in my traditional sketchbook with pencil or pen, or on the iPad Pro, using the Apple Pencil.
How does Painter help you in the development and creation of your artwork?
With my illustration and fine art work, I use both traditional tools and digital ones. Since a beta of Painter 1.0 and a beta of the first pressure-sensitive Wacom tablet, my favorite digital painting software has been Painter! I was blown away by the realism of Painter 1.0 when used to spontaneously sketch with the pressure-sensitive Wacom tablet! To this day, Painter allows me to be flexible and expressive with the type of digital painting media that I use, be it pencil, pastel, watercolor, or opaque paint, (like acrylic or oil looks). In addition to Painter's arsenal of art supplies — layers, masks, and special effects give digital artists flexibility. Saving multiple versions allows me to keep my work secure, and also to build my imagery in the process.
What's your favorite Painter tool/feature? Why?
My favorite Painter feature is the rich, realistic variety of painting media! Depending on the project, I choose which of the dry or wet media to use, and sometimes it is pleasing to combine a variety of media. When working on a series of illustrations, creating custom Mixer colors and Color Sets for the series helps me carry color themes throughout. Also, I make brushes, papers and other materials, when needed. Painter's brush engine is incredibly powerful and versatile. Through the years, I have appreciated being commissioned to make special brushes and papers for clients and colleagues. It's a wonderful experience to see the work that gifted artists have created using the tools that I have made.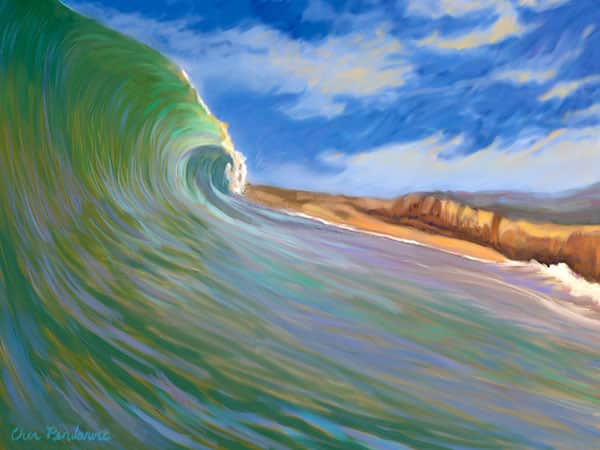 What advice would you give to up-and-coming artists?
Don't be intimidated by the options in Painter. Pick a media, for instance Pencil, Pastel or Oil, and enjoy thoroughly exploring the brushes in that category. Get to know each brush category to discover your favorite brushes, and explore how you personally will use these expressive tools. It's my experience that working with both traditional media and digital media helps expand creativity and drawing practice.
What hardware helps you get the job done?
Right now, my favorite system is an iMac 27-inch, 3.5 Ghz, Intel Core i7 machine with a 1TB drive, and external drives. My favorite tablet is a medium-size Intuos Pro tablet, using the Intuos Grip Pen and the Intuos Art Pen. For a comfortable digital painting experience, I put the Intuos Pro medium tablet on my lap during sketching and painting sessions.
Learn more about Cher Pendarvis: www.cherpendarvis.com