The Mobile Art & Paint App That Moves You
Free yourself from your studio with Painter Mobile for Android. Experience this incredible new paint app on your Android device. Sketch and paint on the go and then import your work directly into Painter to add the professional finishing touches. Now you can take your art to the streets and find new inspiration anytime, anywhere with Painter Mobile.

Frequently Asked Questions
Upgrade to the Full version for more features:
Choose from 70+ Natural-Media® brushes
Enjoy better quality high-definition paintings (2048 x 2048)
Save as PNG or PSD
Features
Access familiar tools, including: Paint, Eyedropper, Paint Bucket, Eraser and Crop
Transform your work, with the ability to Scale, Rotate, Flip, Skew, Apply Perspective or Distort
Take advantage of Horizontal, Vertical and Kaleidoscope symmetry
Work with up to 20 layers
Import photos from a gallery, camera or Google Images search
Save as JPEG and send documents to Corel Painter on the desktop (Upgrade to Full and also save to PNG or PSD)
Work quickly using two finger canvas rotation
Map functions to hardware keys or common gestures (long press and double-tap)
Use your finger to blend, navigate the canvas or select a color while you paint with your stylus
Use brush sets designed for artists
Work with a resolution of 1024 x 1024 or upgrade to Full for 2048 x 2048 high definition
Use real-world art tools, including: Pencils, Chalks, Charcoals, Pens, Markers, Calligraphy, Paintbrushes and Watercolors
Create unique effects with built-in Sprayers and Blenders
Choose from 16 brushes or upgrade to Full and get 70+ Natural-Media® brushes
Create and organize brush sets
Fine-tune control with a multitude of brush settings
Jitter nearly every attribute from brush size to brush color
Blend and mix colors naturally with the Blender Brushes
Experience life-like painting with pressure-sensitivity and stylus support
Work with a non-obtrusive interface for optimal drawing space
Optimized for the Wacom Cintiq Companion Hybrid and other stylus devices
---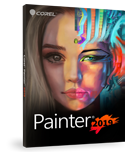 Painter 2019
Check out our professional digital art software Painter 2019!
LEARN MORE
Frequently Asked Questions
How much does it cost?
There is both a free version of Painter Mobile for Android and a $4.99 version of the application.
Why should I try it?
Boost your Corel Painter productivity as you navigate through your favorite brushes, media and commands. Spend less time manipulating software and more time painting!
What's the difference between the paid version and the free version?
The paid version allows you to save as a JPEG, PNG or PSD (Free version allows you to save as JPEG only). The paid version allows you to work with a resolution of 2048 x 2048 (Free version allows for only a 1024 x 1024 resolution). The paid version includes 70+ Natural-Media brushes (Free version features only 16 brushes).
Why should I try it?
Take full advantage of your travel time and create art anytime, anywhere. Create art on the go with the most authentic art app for Android. Once you return to your studio or office, you can import directly into Painter to add the finishing touches.
What will I need to make it work?
You will require an Android device and a wireless internet connection to get started using the Painter Mobile art app.
How do I get it?
Simply click the Download button found at the top of this page to download the Painter Mobile art app.