Painter Webinars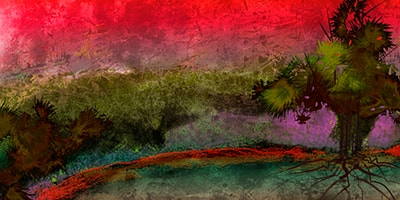 Land, Water and Sky in Mixed Media Featuring Painter Master Elite Skip Allen
"I love exploring different methods of applying marks in a digital world. I am not challenged by the limitations of traditional media and can place oil on water or water on oil without a second thought. I can work slowly and deliberately or quickly and spontaneously. I will admit a preference for the latter. Join me for a fun filled hour of spontaneous mark making showcasing my Painter 2019 custom layout, watercolor and thick paint to create an abstracted landscape."
Level: Perfect for beginners to intermediate
Date: Friday – July 27, 2018
Time: 1:00pm – 2:00pm EST
---
Recorded Sessions
In this webinar, get a first look at the brand new Painter 2019. See how you can achieve painting perfection and explore your creative side with amazing performance improvements, updated UI, 36 new brushes and Patterns and an enhanced color workflow.
Allow Caroline Julia Moore to stimulate your senses and see music through her art. Her unique artistic embellishment of photos, using an assortment of Painter and ParticleShop brushes, will open your eyes to many new creative possibilities.
In addition to being a Painter Master, Justin is a freelance artist from Boise, Idaho. His work was featured as the cover art for Corel Painter 2016 and he has been an integral part of the Painter team for years!
Justin enjoys both writing and doodling with traditional Bic pen as preparation for his digital illustrations. Join Justin for an informational webinar where you will learn gesture drawing, tying down, or fine tuning your drawing, and how you can learn from animation for your own personal work.
Join Digital Arts Product Marketing Manager - Tanya Lux and professional illustrator - Brandon A. McDonald, for an exciting introduction to the NEW Painter Essentials 6! Tanya will kick things off with some fun tips and tricks for making the most of your photo art and Brandon will provide recommendations for getting started with character illustrations.
Painter Master Elite Mike Thompson is a professional illustrator best known for his portraits of entertainers and celebrities, who has built a name for himself in the world of art. Some of the clients Mike has worked with include: Marvel, Hasbro, Warner Bros, Dimension Films, and Cartoon Network. Join Mike for an unforgettable webinar that will teach you his favorite tools for painting over a ZBrush model in Painter. You will learn how to block in a background, Auto-Paint and hand paint seams, wrinkles and hard surface cut lines.
Painter Master Aaron Rutten has been using Painter for more than a decade! He is a professional artist and educator with over 6 years of art education experience. Join us for an enlightening webinar that will reveal the top tips and tricks for mastering Painter.
Davey Baker is a U.K. based freelance artist who quickly develops fantasy/sci-fi genre environment designs using only his imagination. In this webinar Davey would like to share some of the techniques and tricks he finds useful when creating his artwork.
Gear is a Painter Master who is proficient in digital illustration, airbrush, oil and acrylics, not to mention a 27+ year veteran graffiti artist who also made an appearence on Netflix show "SKIN WARS" as a contestant Season 1. Gear uses software like MudBox and Corel Painter together to create Sci-fi photo realistic assets to then transfer large scale to aerosol.
Create your own beautiful mystic mountain in 30 minutes using Painter 2018, Bob Ross approved brushes and "easy-does-it" painting instruction from Painter Master Elite Karen Bonaker.
Learn how new tools such as transparent Clone sources, 2.5D textures and Clone source transformation make photo art compositing a breeze.
Painter Masters Cher Pendarvis & Skip Allen demonstrate our new Thick Paint brushes and Tanya Lux, Digital Arts Product Marketing Manager, takes you through the rest of what is new in 2018.
Painter Master Elite Heather Michelle Chinn walks you through her thought and painting process for the PPA award winning Elysium.
Heather The Painter walks you through her top techniques for painting skin and hair in this webinar that starts from the ground up.
Painter Master Elite Nomi Wagner from sketch to watercolor painting.
Painter Master Elite Don Seegmiller offers tons of tips and tricks for painting an enchanted forest using gradients, Image Hoses and other useful tools to speed up the process.
Paint an entire painting using the Sargent brush! Painter Master Elite Melissa Gallo shows you how it's done.
During this webinar Harvey Bunda of Gunship revolution will sketch and render an Epic Character using Painter and a little bit of Clip Studio.
David Harrington of Blizzard Entertainment walks you through his concept art workflow from sketching to rendering.
Painter Master Joel Payne showcases and explains many of his Disney works and provides tips for using oils, blenders, F-X effects and more in your paintings.
Painter Master Melanie Rose steps through a wide variety of her illustrations explaining specific techniques and then finishes off by rendering an illustration.
Brigid walks you through her production of licensed illustration content and provides tips for streamlining your digital art creation.
---
Photo Fine-Art Paint Jam
In this session you're invited to Heather Michelle's studio, classroom and gallery to learn more about Heather's journey as a Corel artist and what inspires her award-winning photo fine-art style.
In this session you're invited to view Claudia Salguero's studio, classroom and gallery to learn more about Claudia's story as a Corel artist and what inspires her unique photo fine-art style.
Get to know artist Jeremy Sutton. Find out how Jeremy became the dynamic artist we know today.
Watch Heather Michelle, Claudia Salguero and Jeremy Sutton tackle the inspiration image. Follow them as they begin with a blank canvas and offer you valuable tips on getting started with photo painting.
Let Painter Masters Heather Michelle, Claudia Salguero and Jeremy Sutton show you how they create their works of art—step by step. Get valuable tips on printing, applying mixed media and presenting your work.
Download the Paint Jam inspiration image and paint along with the Masters (JPG)
---
Traditional Art Paint Jam
Find out how Painter Masters Karen Bonaker and Peggy Gyulai came to be the professional artists they are today.
Watch as Skip Allen, Karen Bonaker and Peggy Gyulai bring the inspiration imagery to life on the canvas.
Join Painter Masters Peggy Gyulai and Karen Bonaker as they bring their works of art to completion. Get all kinds of painting tips along the way.
Download the Paint Jam inspiration image and paint along with the Masters (JPG)
---
Gain a clear understanding of how to use Painter's Auto-Painting Panels and Cloning tools with detailed instruction from Painter Master Marilyn Sholin.
Learn valuable illustration techniques as Painter Master Mike Thompson works from sketch to full rendering using his favorite Painter tools.
Painter Master Cher Pendarvis takes you through a journey of Brush Expression in Painter. Learn how to tweak your brushes to get that perfect look and feel.
Join professional industrial designer Erik Holmen as he designs a motorcycle from the initial sketch to final rendering.
Rob Prior walks you through his traditional to digital workflow and shows how he takes advantage of Painter to produce concept art/production design.
Karen Sperling walks you through the basic steps for getting started with pet portrait painting. You'll learn the key cloning and blank canvas painting techniques that will provide the foundation for creating your very first pet portrait.
Join entertainment illustrator Cliff Cramp as he demonstrates how to quickly block in a narrative environment. He will discuss composition, vantage point, shape, value, temperature of light and more as he lays in the quick paint.
Join award-winning artist, author and Painter Master Carlyn Beccia, who will take you inside her process for creating lively illustrated portraits for children's books. Learn Carlyn's special techniques for illustrating expressive faces and unique clothing. Carlyn will show how you can bring your characters to life using a Wacom Cintiq and Painter 12.
Discover how Painter Master and professional caricature artist Rhoda Draws uses the Image Portfolio and custom palettes to her advantage when creating caricatures of both celebrities and ordinary folks. There will also be an exciting live caricature demonstration of these features in action.
As a commercial illustrator, Greg Banning has worked with some of the biggest ad agencies on the planet, with clients such as Penguin Books, Scholastic and Random House. He was also recently responsible for re-imaging the iconic "Brawny Man" character for Brawny Paper Towels. Join Greg as he discusses his professional experience, shows samples from his extensive portfolio, and dives into specific tips that will help other artists get the most out of Painter 12.
Painter has a lot of expressive power under the hood, but many users are anxious about altering – and possibly losing – a beloved brush's individual character. Join Painter Master John Derry as he demonstrates how you can fearlessly explore fresh possibilities and expand your artistic voice using the brush engine of Painter 12.
Join Painter Master Helen Yancy as she shows you how to import a family photo into Painter 12 and then transform it into an amazing work of art that will remain a cherished item in your family for years to come.
The new Clone Source palette in Painter 12 is an exciting addition that will improve your workflow by keeping clone sources organized in one place. This overview webinar from Painter Master Marilyn Sholin will provide tips that help you understand the key points when using this incredible new feature. Download the FREE cloner brushes used in the webinar here.
Join Painter Master Jeremy Sutton as he demonstrates his techniques for painting from photo reference. See how he captures the spirit, energy and passion of dance while using a variety of brushes, textures, colors and values.
Join Painter Master Greg Newman for an up close and personal look at Painter Lite, the powerful new starter app designed exclusively for aspiring digital artists. In this webinar, Greg will offer a detailed explanation of how to use the various brushes which are included with Painter Lite. He'll also provide insight into his own approach to illustration and show how to use sketches as a jumping off point for the digital painting process.
This webinar will concentrate on taking a pencil or pen sketch of a character and turning it into a finished piece of art. Step by step images will be provided and final touches of the actual painting process will be demonstrated.
Join Cher Pendarvis, award-winning artist and author of the Painter Wow! books, for a look into some of the incredible, lesser known features of Painter. Cher will demonstrate how to make custom oily brushes, provide some pointers on using a few of her favorite special effects, and offer instructions on how to make custom palettes and workspaces.
Create works in the Impressionist style and learn why light, loose and colorful brushstrokes were so important to this historic style of painting.
Join award-winning artist Carlyn Beccia and discover her process for creating lively, illustrated children's book covers using a variety of brushes, patterns and papers.
Join Painter Master Jane Conner-ziser and learn painting techniques for restoring photos and turning them into profitable paintings.
Join award-winning artist Heather Michelle and learn how to turn a simple snapshot of any animal into a sellable, polished work of art using Corel® Painter™.
Add one photo, a few brushes, some art theories and a pinch of Tracing Paper and presto chango, your photos become magical works of art in Corel Painter 12! Artist, photographer, author and Corel Painter Master Karen Sperling shows professional photographers and hobbyists alike the tricks up her sleeve for creating spellbinding paintings from photos. No rabbits will be harmed in this webinar. Learn more about Karen at artistrymag.com, karensperling.com and lastreetsbykarensperling.com.
Award-winning artist and author Cher Pendarvis will give an overview of favorite features in the elegant new Painter 12 interface. She will demonstrate some of her favorite brushes and media, and show stages of a painting created with the new Real Wet Watercolor medium.
Join Painter Master and Educator Keith MacLelland as he shows you how to use all those inspirational photos and napkin scribbles to create a great-looking image and an interesting class project! Learn more about Keith at www.yourillustrator.com and www.etsy.com/shop/cowboykeithsplace.
Best known for his portraits of urban entertainers and celebrity likeness, Painter Master Mike Thompson will show you how to create a celebrity portrait in Corel® Painter™. Illustrators, concept artists and other creative professionals will discover how Painter can be used to bring visions to life. Mike's work can be seen on his site: www.miketartworks.com and you can visit his blog at: www.miketartworks.wordpress.com
In this session, Doug Sirois shares how to turn a pencil-sketched page into a full-color comic book page. Learn how to add value and lighting, block in colors and render the page into comic book perfection. (Recorded session coming soon)
Discover what's new in Painter 12! Cher Threinen-Pendarvis guides you through the new Real Watercolor and Real Wet Oil tools. Android Jones demos some amazing possibilities with the Mirror and Kaleidoscope tools. See other new features in action too!
In this webinar, Painter Master Dwayne Vance (author of Masters Of Chicken Scratch) will guide you through his techniques for creating quick thumbnail sketches for vehicle design.
In this webinar, Painter Master Jeremy Sutton will show you his techniques for creating a 'painterly' painting from photos.
In this webinar Painter Master Heather Michelle Bjoershol goes through a step-by-step tutorial on how to create beautiful art in Corel Painter based on an existing photo. Professional photographers will discover how Corel Painter can be used to expand their creativity and how it fits in their existing workflow.
In this webinar Painter Master Mike Thompson goes through a step-by-step tutorial on how to create beautiful art in Corel Painter. Concept artists, illustrators and other creative professionals will discover how Corel Painter can be used to expand their creativity and how it fits in their existing workflow.